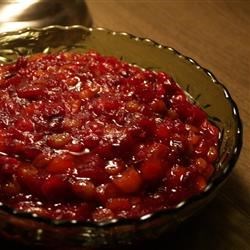 Stewed fruit compotes are a great way to satisfy your sweet tooth while receiving numerous nutritional benefits. A compote can be served alone, as a side dish for a meal, a topping for hot cereal, plain or vanilla yogurt, or over fresh sliced fruit such as pears and apples for a healthy dessert. 
The following recipes are easy to make and taste wonderful! If you cannot locate fresh cranberries, substitute frozen ones. Note that canned versions of cranberry sauce contain not only cranberries, but also genetically modified high fructose corn syrup, genetically modified corn syrup, filtered water, and probably Bisphenol A (an endocrine disruptor) due to the epoxy lining of the can. Always try to use wholesome, fresh ingredients in season, with minimal or no added sugar, for better health.
Healthy Cranberry Compote with Apricots, Raisins, and Oranges
Prep time: 15 minutes
Cook time: 10 minutes
Ingredients for 16-18 servings:
16-ounce package (1 lb.) or 4 cups fresh cranberries, picked over, rinsed, and drained
1 cup orange juice (or use juice of 2 large fresh-squeezed oranges)
1 cup water
1/3 cup sugar* (optional)
1 cup chopped dried apricots
1 cup golden or dark raisins or currants
1 tablespoon grated orange rind (zest)
Chopped fruit of 3 oranges (rind and seeds removed)
1 cinnamon stick
Directions:
In a medium saucepan over medium/high heat, combine the orange juice, water, sugar*, cranberries, apricots, raisins, orange zest, orange chunks, and cinnamon stick.
Stir gently and bring to a boil. Reduce heat and simmer until cranberries burst and sauce thickens slightly, about 10 minutes.
Remove from heat. Cranberry sauce will continue to thicken as it cools at room temperature. Transfer to a bowl.
Refrigerate until serving time. (If added during cooking, remove cinnamon stick before serving.)
Sauce can be made a day in advance.
* While honey, maple syrup, or molasses may be substituted for sugar, this compote is delicious, wholesome, and healthier without any sweetener added, due to the natural sweetness of all the fruits in the recipe. Add a cinnamon stick during cooking and/or some ground cinnamon after removing the compote from heat to enhance the natural flavors of the fruits (I use 1 cinnamon stick and about 1/3 teaspoon of ground cinnamon).
Cranberry Sauce with Ginger and Pineapple
Prep time: 15 minutes
Cook time: 10 minutes
Ingredients for 10-12 servings:
1 cup fresh orange juice
1 tsp minced fresh ginger
1 tsp minced orange zest
1/4 tsp cinnamon
12-ounce bag of fresh or frozen cranberries (Rinsed and picked over)
1/2 cup crushed pineapple
1/2 cup honey
Directions:
Bring orange juice, ginger, zest, and cinnamon to a boil on high heat in a medium saucepan.
Add cranberries to pan once liquid is boiling. Reduce heat to medium and cook uncovered for about 10 minutes.
Add crushed pineapple and honey. Remove from heat and cool.
Traditional Cranberry Sauce
Ingredients:
1 cup sugar
1 cup water
1 12-ounce package Ocean Spray® Fresh or Frozen Cranberries
Directions:
Combine sugar and water in a medium saucepan. Bring to boil; add cranberries, return to boil. Reduce heat and boil gently for 10 minutes, stirring occasionally. Cover and cool completely at room temperature. Refrigerate until serving time. Makes 2 1/4 cups.
Per serving (2 Tablespoons): Calories 51(3%DV), Fat 0grams, Pot. 14mg(<1%DV), Total Carb. 13grams(4%DV), Dietary Fiber <1gram(3%DV), Sugars 11grams, Vitamin C 2mg(3%DV), Dietary
Exchange: Fruit 1
Other additions to cranberry sauce:
1/2 teaspoon ground cinnamon or 1 stick cinnamon
1/4 teaspoon nutmeg
Stick cinnamon
Minced peeled fresh or ground ginger
Fresh or dried thyme or rosemary
Diced apples
Diced pineapple
Pomegranate seeds
Chopped pecans, walnuts, or other nuts
Dried or frozen pitted cherries
Cranberry Apple Crisp Recipe
Ingredients for 9 servings:
5 cups tart apples (about 6 medium apples), pared and sliced
1½ cups fresh or frozen cranberries
1/3 cup sugar
½ cup all-purpose flour
½ cup brown sugar
1 tsp cinnamon
¼ cup butter
Directions: 
Preheat oven to 375ºF. Lightly grease a 9-inch square baking pan.
Layer apples and cranberries in pan, sprinkling with sugar as you layer.
Make topping: Mix flour, brown sugar, and cinnamon. Work in butter until light and crumbly. Sprinkle topping evenly over apples and cranberries.
Bake 45 minutes or until apples are tender.
Per serving: Calories 210 (25% from fat); Protein 1 g; Fat 6 g; Carbohydrates 39 g; Cholesterol 15 mg; Fiber 3 g; Sodium 64 g.
References:
"Cranberries-What's New and Beneficial About Cranberries?" Whole Foods: The World's Healthiest Foods. 2013. (Source: www.whfoods.com/genpage.php?tname=foodspice&dbid=145)
Davis, Jeanie Lerche. "Cranberries: Year-Round Superfood. You Can Get the Antioxidant Benefits of Cranberries Long After the Holidays." WebMD, Inc. Feature Archive. 2007. Reviewed on September 29, 2009.
"Fresh Cranberry Sauce Recipe." Ocean Spray. (Source: www.oceanspray.com/Recipes/Corporate/Sauces,-Sides…)