Banana Ghosts and Clementine Pumpkins
Picky little eaters love fun food like this. It's also a great way to get them to eat some extra fruit.
A healthy Halloween snack is a refreshing change from the usual artificially-colored, artificially-flavored, sugary treats associated with the holiday. The following easy-to-make treats are adorable, nutritious, and prepared in no time. This is definitely a time for your children to pitch in. They'll have fun putting together the delightful pumpkins, ghosts, spiders, and other creations. If your children are allowed to bring snacks to school or daycare for Halloween, these healthier options will be welcomed by teachers and parents alike. The recipes below are a great alternative to all the candy the children will get when trick or treating. 
Banana Ghosts:
Servings: 8
Preparation: 5
Ingredients:
4 bananas
24 raisins, currants, or chocolate chips (mini chips for eyes, 1 regular chocolate chip or raisin for mouth)
Directions:
Peel the bananas and cut them in half. Place them cut side down, so the banana halves stand up.
Using a toothpick in a circular motion, make a small hole for each eye and the mouth (This step is helpful, especially when using raisins or currants, instead of chocolate chips).
Poke the pointed end of two mini chocolate chips in each banana half for the ghost's eyes and one regular size chocolate chip, point facing in, for the ghostly mouth.
Clementine Pumpkins:
Servings: 12
Preparation: 5
Ingredients:
1 bag or box clementines (Naval oranges or tangerines may be substituted)
2-3 stalks of celery, cut crosswise into 3 or 4 segments, each about 1-2 inches long, and then sliced in lengthwise in half
Directions:
Peel each clementine by hand carefully, so it does not come apart. Remove the middle pith, if possible.
Cut each celery stalk into pieces 1-inch or longer, to make pumpkin stems and insert it into the top of the fruit, so that it resembles a pumpkin stalk.
Adjust the width and length of the celery stems according to the size of your "pumpkins."
Mini Mummy Pizzas: These English muffin pizzas, topped with greens, sweet peppers, string cheese, and olives can be served for breakfast, lunch, dinner, or as a snack after a night of trick-or-treating. 
4 whole wheat English muffins or whole grain bagels, split and lightly toasted
2/3 cup pasta sauce or red pepper marinara sauce
1 cup finely chopped kale, chard, or spinach.
1 yellow or green bell pepper, cored, and finely chopped
1 (6-ounce) package light string cheese
16 slices of black olives for eyes
Directions:
Preheat the oven to 400°F.
Arrange muffins on a parchment paper-lined baking sheet and spoon sauce onto each half.
Top with kale and peppers, and then shred cheese into strings, arranging it over muffins, like mummy bandages.
Arrange 2 olive slices on each muffin half for eyes, and bake until cheese is melted, about 15 minutes.
Nutrition Per Serving (1 whole muffin): 260 calories (60 from fat), 6 g total fat, 3.5 g saturated fat,
 15 mg cholesterol, 610 mg sodium, 33 g carbohydrate (6 g dietary fiber, 8 g sugar),18 g protein.
Servings: 8
Ingredients:
4 boiled eggs, each sliced lengthwise in half
12 pitted black olives (4 for the 8 spider bodies plus 8 for their legs)
Directions:
Cut each olive in half lengthwise.
Nestle one half on top of an egg (either deviled or just sliced in half) for each spider body.
Cut remaining olive halves crosswise into thin slices to form creepy legs. The equivalent of a whole olive is needed to provide all 8 legs for 1 spider.
Arrange spider legs as shown above.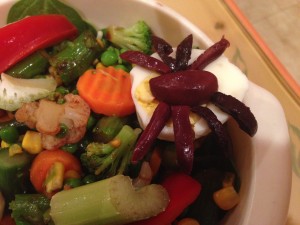 Apple Almond Teeth: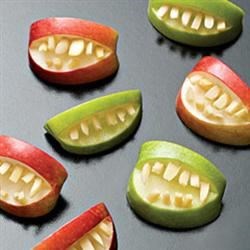 Preparation time: 15 minutes
Servings: 16
Ingredients:
4 fresh apples (any variety in season), cored, and quartered
2 teaspoons lemon juice (optional)
1 (2.25 ounce) package blanched slivered almonds
Directions:
With a small, sharp paring knife, cut a lengthwise wedge from the skin side of each apple quarter, leaving the peel around the wedge for lips.

If desired, rub cut portions of apple quarters with lemon juice to prevent browning.

Poke 6 slivered almonds into the top and 6 into the bottom of the cut-out area of the apple to make crooked teeth.
Apple Marshmallow Smiles:
Ingredients:
Smooth peanut butter (for gums)
1 apple, cored, and sliced into eighths (for lips)
Miniature marshmallows (for teeth)
Directions:
Spread peanut butter on one side of each apple slice.
Place 4-5 miniature marshmallows on one apple slice and then lay another apple slice, peanut butter side down, on top.
Ghastly Goblin Grins:  
Servings: 8
Ingredients:
1 pkg. (8 oz.) Neufchatel or regular cream cheese, softened
1/2 cup packed brown sugar
1/2 tsp. vanilla
2 large apples, cut into quarters
1/4 cup slivered almonds
Directions:
Beat cream cheese with mixer until creamy. Add sugar and vanilla and mix well.
Cut thin wedge in peel side of each apple piece. Fill wedge with 1 teaspoon cream cheese mixture.
Press 6 nut slivers into cream cheese mixture in each apple to resemble teeth.
Spoon remaining cream cheese mixture into serving bowl. Serve with apples, carrots, celery, or pretzels for dipping.
Store leftovers in covered container in refrigerator.
Mummy Toast:
Servings: 8 pizzas
Ingredients:
3/4  pound thinly sliced mozzarella cheese

1 loaf whole grain or Italian bread

1 cup pasta, pizza, or marinara sauce

1/4 cup sliced black olives
Directions:
Preheat broiler. Line 2 cookie sheets with aluminum foil and set aside.
Cut the sliced cheese into 3/4-inch tapered strips to create bandages.
Slice off the rounded ends of the loaf. Cut the bread in half lengthwise. Cut each half crosswise into 4 pieces. Place the bread, cut side up, on prepared cookie sheets. Toast bread slices slightly, 1 to 2 minutes.
Spread some sauce to cover the top of each toasted bread slice. Arrange the cheese strips, overlapping them slightly, on top of the sauce, to resemble bandages.
Add 2 olive slices to each toast for the eyes. Place another slice of cheese over the olives to cover slightly.
Working with one pan at a time, broil the pizzas until the cheese is slightly melted, about 1 to 2 minutes.
Servings: 4 lunch servings or 8 snack servings
Ingredients:
8 slices whole-grain bread

1 cup pasta, pizza, or marinara sauce

6-8 slices part-skim mozzarella cheese, sliced into strips 

8 black or green olives, sliced in half
Directions for untoasted treat:
Top each slice of untoasted bread with two tablespoons of sauce.
Arrange strips of cheese to look like bandages, leaving space between each one and alternating the direction.
Place olive slices on each slice for "eyes."
Directions for broiler-toasted treat:
Preheat broiler.
Place the bread slices on a baking sheet and top each slice with two tablespoons of sauce.
Arrange strips of cheese to look like bandages, leaving space between each one and alternating the direction.
Place olive slices on each slice for "eyes."
Broil pizza toast until the cheese has melted.
Directions for quick-toasted treat:
Toast bread slices in toaster until medium-brown.
Spread with hot, cooked marinara sauce.
Cut thin strips of American, Cheddar, Mozzarella or Provolone cheese and arrange on each toast like bandages.
Use olive slices for eyes.
Mummy-Face Pizzas:
Ingredients:
1 Plain bagel (3-1/2 inch), cut horizontally in half or split English muffin
2 tablespoons pizza sauce
2 sticks Kraft or Polly-O Mozzarella String Cheese
4 black or stuffed green olives slices
Directions:
Heat oven to 400ºF.
Spread bagel halves with sauce. Pull cheese into thin strips; place in random criss-cross fashion on tops of bagels to resemble mummy bandages. Trim ends with kitchen shears or sharp knife. Add olives for the eyes.
Place on baking sheet.
Bake 10 minutes or until bagels are crisp and cheese is melted.
Cracker or Pita Face:
Ingredients:
Small pitas, whole grain crackers, or mini bagels
Yogurt, cottage cheese, or cream cheese slathered on top of cracker for face (optional)
Cheese (American, cheddar, string, etc.) or turkey, cut in strips for hair
Ham, black or green olive, or seitan slices for eyes
Baby carrots or large carrots cut into small pieces for nose
Sliced tomato wedges for mouth
1 (8-ounce) package cream cheese, softened (Plain Greek yogurt or cottage cheese can be substituted for cream cheese)
3 tablespoons honey
1/4 cup pumpkin purée
1 (11.25-ounce) package Whole Foods Market® Two-Bite® Belgian Chocolate Brownies
1 tablespoon mini chocolate chips
6 dried apricots, thinly sliced
Directions:
In a large bowl, beat cream cheese and honey with electric mixer on medium speed for 30 seconds.
Transfer about 2 tablespoons of this mixture to a small, resealable plastic bag and set aside.
Add pumpkin to remaining cream cheese mixture and beat again for 30 seconds.
Transfer orange frosting to a second resealable plastic bag.
Snip off one corner from each bag of frosting (very small for white frosting).
Pipe a generous layer of orange frosting over the top of each brownie.
Pipe 2 small dots with white frosting to form eyes. Arrange a chocolate chip in the middle of each eye.
For spiders, arrange dried apricot slices as legs, sticking them into the frosting on either side.
Nutrition per serving (2 brownies):
290 calories (150 from fat), 17g total fat, 9g saturated fat, 45mg cholesterol, 160mg sodium,
 35g carbohydrate (2g dietary fiber, 21g sugar), 4g protein.
HAVE A HAPPY AND SAFE HALLOWEEN!!!