And we are not just talking about heavy drinking (i.e., more than 1 drink per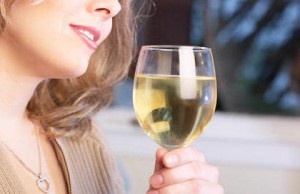 day for women and more than 2 drinks per day for men [2,4]). It has been proven that alcohol intake in the form of beer, wine, spirits, and mixed drinks can contribute to a myriad of health and nutritional problems, especially when done in excess. While one drink is defined as 12 ounces (355 milliliters) of beer, or 5 ounces (148 milliliters) of wine, or 1.5 ounces (44 milliliters) of 80-proof distilled spirits, there is no definition of what constitutes a "healthy dose" of alcohol (2,4). Why? Because even if one drinks moderately, there is no guarantee that alcohol is risk-free. No level of consumption can be considered safe. A recent study of 1.2 million middle-aged women in the United Kingdom has indicated that women who have as little as one drink a day, whether beer, wine, or hard liquor, increase their risk of several different cancers. The more one drinks, the greater the cancer risk (1,7). Women are generally more vulnerable to the negative effects of alcohol than men, since their bodies contain more fatty tissue and less metabolically active muscle tissue than a man of the same age and weight. Nevertheless, both men and women should drink in moderation, or not at all, to reduce their risk of the following (1, 2, 3, 4, 6, 7):
Cancer of the breast, mouth, throat, esophagus, liver, colon, and rectum
Excessive levels of triglycerides in blood (Hyperlipidemia)
Chronic increase in blood pressure (Hypertension)
Cardiovascular disease, heart attack, stroke, cardiac arrhythmia
Decreased fertility, as well as increased risk in pregnant women of miscarriage, stillbirth, and fetal birth defects
Inflammation of the stomach, pancreas, liver
Poor absorption of nutrients from their diet with subsequent protein and vitamin deficiency
Diabetes
Sleep disturbance, since alcohol prevents deep sleep and interferes with REM-stage sleep
Risky sexual behaviors (Remember, alcohol is a popular "date-rape" drug)
Social and psychiatric problems, disorientation, irritability, decreased cognitive functions (information processing, learning, problem-solving, and visual-spatial abilities), depression, anxiety, and suicide, to name a few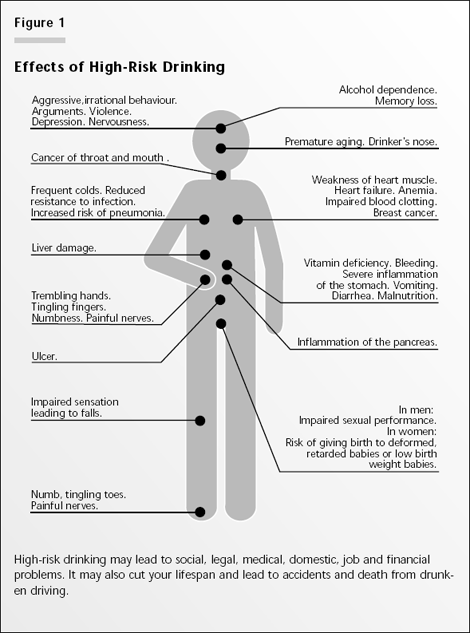 Like any social activity, drinking requires that one follow certain guidelines, practice moderation, and behave in a responsible manner. Some excellent hints for drinking and party hosting are offered by R.C. Eng in Alcohol and Other Drugs: Self Responsibility (5). Some of his hints are as follows:
Don't feel pressured to drink alcohol. If you choose to drink, know your limit to avoid getting drunk.
Eat food while you drink, especially high protein foods like cheese and peanuts, in order to slow down the absorption of alcohol into the bloodstream.
Sip your drink slowly. When done, have water or a nonalcoholic drink to keep your blood alcohol concentration down and to prevent dehydration. Do not allow anyone to force you to have another alcoholic drink.
Be careful of unfamiliar drinks.
Avoid mixing alcohol with energy drinks, since the depressant effects of alcohol are masked by the caffeine in the energy drink (2, 4).
Avoid mixed drinks on a hot day, especially when you haven't eaten, since you can easily become hypoglycemic and develop dizziness, weakness, and mood change.
Have a responsible person as a designated driver who will not be drinking and be available to drive all drinkers home. If you do not have a designated driver and must drive yourself home, it is best that you avoid drinking.
Respect the rights of individuals who do not wish to drink.
Always avoid alcoholic beverages when sick, taking over-the-counter or prescription medicine, operating machinery, planning a pregnancy, or pregnant.
Remember…If you are healthy and do drink alcohol, consider the guidelines above, be moderate, use common sense, and take responsibility for your future health and well-being.
References:
Allen, N.E.

Journal of the National Cancer Institute.

March 4, 2009; volume 101: pp 296-305.
Centers for Disease Control and Prevention (CDC). Alcohol-Related Disease Impact (ARDI). Atlanta, GA: CDC. (Source: http://www.cdc.gov/alcohol/ardi.htm/alcohol.ardi.htm). Accessed March 28, 2008.

Division of Adult and Community Health, National Center for Chronic Disease Prevention and Health Promotion.

CDC Centers for Disease Control and Prevention: Your Online Source for Credible Health Information. Fact Sheets on "Alcohol and Public Health," based on data from CDC's Behavioral Risk Factor Surveillance System (BRFSS). Information about BRFSS is available at http://www.cdc.gov/brfss/index. htm (http://www.cdc.gov/brfss/index.htm).
Engs, R.C. "Hints for Sensible, Moderate, and Resp0nsible Alcohol Consumption and Party Hosting." 

Alcohol and Other Drugs: Self Responsibility

. Tichenor Publishing Company, Bloomington, IN,1987.
MayoClinic.com: 1998-2011 Mayo Foundation for Medical Education and Research (MFMER). All rights reserved. A single copy of these materials may be reprinted for noncommercial personal use only. "Mayo," "Mayo Clinic," "MayoClinic.com," "EmbodyHealth," "Enhance your life," and the triple-shield Mayo Clinic logo are trademarks of Mayo Foundation for Medical Education and Research. August 21, 2010 (SC00024).
WebMD, LLC. Health News: Women's Health. "Alcohol Linked to Cancer Risk in Women: Study Shows Even Low-to-Moderate Drinking Raises Cancer Risk." February 24, 2009 (Sources: Naomi E. Allen, DPhil, Cancer Epidemiology Unit, University of Oxford, U.K.; Michael S. Lauer, MD, Cardiologist, Division of Prevention and Population Sciences, National Heart Lung, and Blood Institute, Bethesda, Md.; American Cancer Society: "Key Statistics for Breast Cancer," 2008).