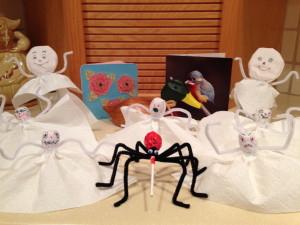 The following Halloween crafts are fun, inexpensive, easy for children to make themselves, and take just minutes to put together! They also make delightful Halloween decorations, invitations, party favors, and hand-outs for trick-or-treaters. 
Lollipop Ghosts:
Preparation: Less than 3 minutes per ghost
Materials:
One round Tootsie Roll Pop or round sucker Lollipop for each ghost
One or two white Kleenex tissues (thicker tissues are easier to work with) or a square piece of towel paper or white fabric size 9″x9″ cut using pinking sheers
Pair of plastic movable eyes (6mm or 7mm wiggle eyes) or 1 fine-point pen or black marker for eyes and mouth
Glue for plastic wiggle eyes
One pipe cleaner (sometimes labeled as "Chenille Stems" at craft stores) or a 6″ piece of yarn or thin ribbon (any color will do, but orange or black are more traditional for Halloween)
Scissors
Directions:
Place a tissue down flat on your work surface. If using two tissues, lay the second one on top of the first at an angle, so that the corners of both tissues can all be seen.
Place your round lollipop in the middle of the tissues and gently gather the tissues around the head of the lollipop.
Twist a pipe cleaner or tie a small piece of yarn or thin ribbon just below the head of the lollipop, to make the ghost's head. After twisting pipe cleaner snugly, shape it's loose ends to resemble ghost's arms. Make a bow with the yarn or ribbon, or just tie it and cut off the long ends.
If using plastic eyes, add a dab of glue to the back of eye and gently press into place. If you prefer to draw all the facial features, just use a black marker to dab on two circle eyes and a larger circle shape for the mouth.
Use the ghost as an invitation by tying on an invite to the ribbon or as a craft for kids to make during a Halloween party, hang as decorations, or stack in a big bowl to give out on Halloween night.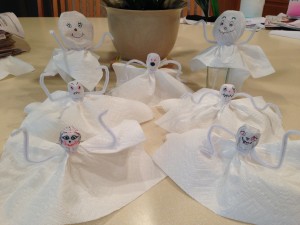 For Halloween Lollipop variations, c
hange the tissue or fabric color to create bats, monsters, Jack-o-Lanterns, or Frankenstein monsters:
Bats: Use black fabric to make bats by adding black paper wings. Wrap lollipop in black fabric. Glue on eyeballs purchased at any craft store. Tie with a ribbon. Fold a piece of black construction paper in half. Cut through both layers of paper to create the shape of a wing. Leave the center attached and folded. Open the wing up and use glue to attach its midsection to the back of the lollipop bat.
Monsters: Use black fabric with glow in the dark markers or fabric glue to make scary monsters. Draw in a mean face, scars, fangs, or anything scary you can think of. If using fabric glue, make sure it sits for couple hours to dry.
Jack-o-Lantern: Use orange fabric to make a jack-o-lantern. Wrap lollipop in orange fabric. Tie with a festive Halloween ribbon. Draw in 2 triangle eyes and mouth.
Frankenstein: Use green fabric to make Frankenstein monsters. Wrap lollipop in the green fabric. Tie with a ribbon, rope, or electrical wire. If using wire, make the wire at the end stick up in funny directions. Draw on the face and don't forget the scars. Use any small bolts and glue on each side for ears.
Lollipop Spiders: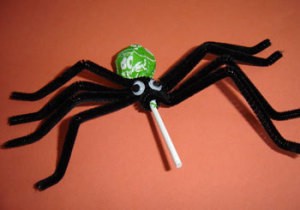 Preparation: Less than 5 minutes per spider
Materials:
Lollipop of your choice (Tootsie Roll Pops work best)
4 pipe cleaners per spider (black or colors of your choice)
7mm googly eyes
Glue
Directions:
Evenly gather and hold all four pipe cleaners and center them on the top of the lollipop stick. Twist them around the stick.
Take lollipop and wrap the 4 pipe cleaners around the bottom of the wrapper, leaving a bit of wrapper color exposed in front for the spider's mouth.
Bend each of the pipe cleaners to make them resemble spider legs.
Glue on either 2 paper eyes you have made, or 2 store bought plastic eyes, to the upper part of the spider" body above where you wrapped the pipe cleaners around the stem.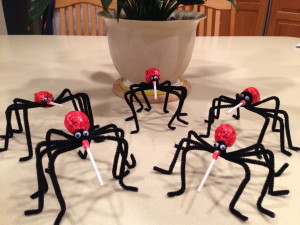 Fruit Mummies (This recipe can be done with apples, clementines, grapefruits, oranges, pears, pineapple, pomegranate, etc.):
Materials:
Any fresh fruit such as apples, clementines, grapefruits, oranges, pears, pineapple, pomegranate, etc.
White Crepe paper
Scotch tape or masking tape
Candy eyes (or stick-on wiggly eyes)
Black gel frosting
Directions:
Tape one end of crepe paper to fruit.
Start wrapping it around the fruit to make it look like a mummy. Leave part of the fruit uncovered, so you can glue on the eyes.
Use black gel frosting to glue on the candy eyes.
Keep fruit refrigerated until ready to serve.
Ingredients:
Fudge shortbread cookies
Hershey kisses
Orange icing or almond butter or peanut butter
Directions:
Unwrap Hershey kisses and set aside.
Apply a small dot of orange frosting, almond butter, or peanut butter in the middle of the fudge side of a cookie.
Gently press a Hershey kiss onto the icing or butter with just enough pressure to cause icing or butter to ooze out a bit.
If almond or peanut butter is used, store witch hat cookies in refrigerator until ready to serve.
Clementines with celery stalks in a pumpkin seed patch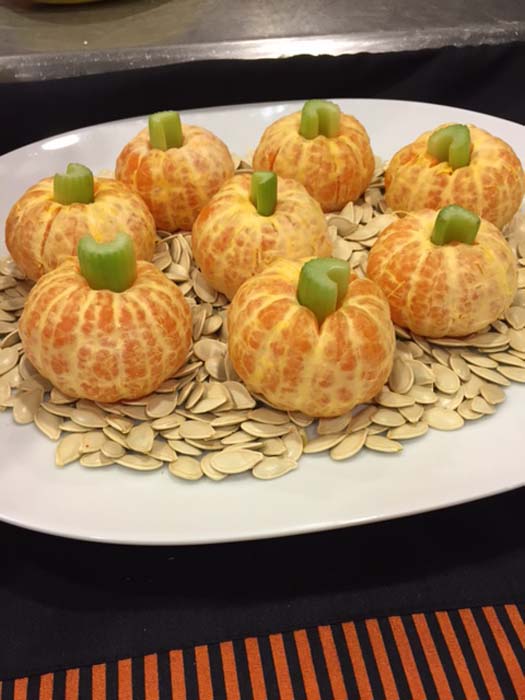 HAVE A HAPPY AND SAFE HALLOWEEN!!!