Wheat berries are whole, unprocessed wheat kernels that contain all three parts of the grain, including the germ, bran, and endosperm (starch). Only the hull, the inedible outer layer of the grain, has been removed. Consequently, wheat berries contain all of the grain's minerals (manganese, selenium, phosphorus, magnesium, calcium, copper, and iron), vitamins (B1, B3, and E), and phytochemicals (antioxidants, phenolics, phytoestrogens, plant lignans, etc.).
Cooked wheat berries are delicious, chewy in texture, very nutritious, high in protein and complex carbohydrate, low in calories, and an excellent source of whole grains and dietary fiber, both of which help promote digestive health, regular bowel movements, lower blood cholesterol and blood sugar levels, maintain a healthy weight and satisfy your appetite for long periods of time. One-half cup of cooked wheat berries contains about 150 calories, 0.5 gram (g) total fat, 0 g saturated fat, 0 g monounsaturated fat, 0 g trans fat, 0 mg cholesterol, 29 g carbohydrates, 0 g sugar, 0 mg salt, 6 g protein, 6 g fiber,  and 2 mg potassium.
All wheat products, including white and whole wheat flour, are made from wheat berries.
Since wheat berries contain gluten, they must be avoided by individuals with celiac disease or gluten sensitivity.
The most popular varieties of wheat berries include: 
Hard Red Spring and Hard Red Winter: Brownish in color, hardy, high in protein, and often used to make bread and baked goods.
Hard White: Has a light pale color and a hard kernel; often used for bread and brewing.
Soft White: Resembles hard white wheat berries in color and contains a softer kernel; often used to make pastry flour.
Wheat berries are generally available in large grocery stores, either in the bulk food section or pre-packaged (e.g., Bob's Red Mill brand). To obtain the freshest wheat berries, shop at stores with a high bulk product turnover, as well as, a clean, dry, and well-sealed storage container for the berries, and aways check the expiration date on any pre-packaged ones.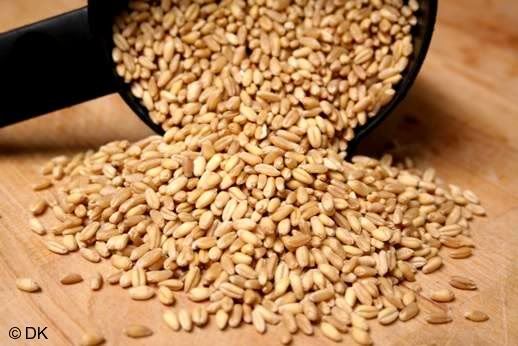 Storage:
Uncooked wheat berries, like all grains, should be stored in a clearly labeled, airtight container with the date of purchase in a cool, dry place, away from light, heat, and moisture. To keep wheat berries fresh and extend their shelf life, store them in the refrigerator for up to a year.
Preparation:
Wheat berries are generally prepared by soaking the kernels for a period of time and then cooking them in water, broth, or milk. Wheatberries labeled "soft" will cook more quickly. One cup of uncooked wheat berries will yield about 2-1/2 cups cooked wheat berries.
Rinse wheat berries well with cold water.
Soak 1 cup of wheat berries at least 8 hours, or overnight, in 3-1/2 cups cold water in a covered pot. (I keep the pot in the refrigerator overnight.)
Drain. Add fresh, cold water, bring to a boil and simmer, uncovered, 15 minutes for parboiled wheat berries or 45-60 minutes for fully cooked (tender but chewy) wheat berries.
Add water if necessary during cooking.
When done cooking, remove wheat berries from heat, drain excess water, and fluff with a fork.
Cover and refrigerate for up to 3 days or freeze for up to 1 month.
For unsoaked berries, bring water and 1/4 teaspoon salt to a boil. Stir in wheat berries, reduce heat, and simmer uncovered until tender, but chewy, 1-1/4 to 1-1/2 hours. Drain if necessary.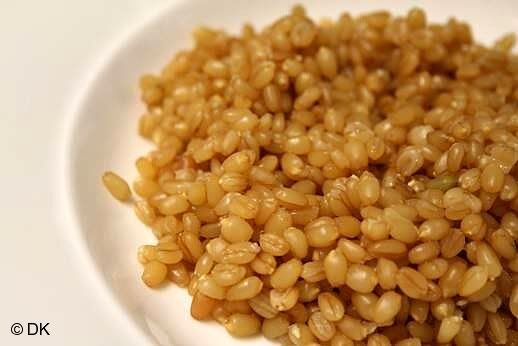 Cooked wheat berries can be used, hot or cold:
On their own as a whole grain side dish.
Mixed with sliced fruit and drizzled with honey.
Layer cooled, cooked wheat berries in parfait or serving dishes with low-fat or non-fat yogurt, fresh blueberries and/or strawberries, slivered almonds, chopped pecans, peanuts, or walnuts, for a healthy breakfast, snack, or dessert. Add cinnamon and/or honey, if desired.
Tossed with fresh, grilled, or steamed vegetables, black pepper, and balsamic vinegar, or your favorite vinaigrette, for a delicious and hearty salad.
As a pilaf tossed with sautéed vegetables and plenty of fresh herbs.
In place of rice, noodles, or pasta, in a curry, soup, stew, or stir-fry recipe.
As a nutritious stuffing for vegetables, poultry, and roasts.
Wheat berries are also delicious cooked with dried fruit and served with milk or yogurt for breakfast.
For a delicious chilled or warm salad, select your favorite ingredients from the following list and combine them with cooked wheat berries: 
Cheese (Vegan cheeses may be substituted for the following cheeses.)
Feta
Goat
Ricotta
Mozzarella
Blue
Gorgonzola
Cheddar
Dried and Fresh Fruits
Apples
Apricots
Blueberries
Cherries
Cranberries
Dates
Figs
Pear
Pitted prunes
Pomegranate seeds
Currants
Raisins
Nuts and Seeds (Chopping and toasting improves their flavor)
Almond slivers
Cashews
Flaxseeds
Peanuts
Pecans
Pepitas
Pine nuts
Sesame seeds
Sunflower seeds
Walnut pieces
Vegetables
Carrots
Corn
Cucumbers
Tomatoes
Zucchini
Brussels sprouts
Kale
Spinach
Bean sprouts
Peas
Beans and Legumes
Black beans
Cannellini beans
Chickpeas
Edamame
Kidney beans
Lentils
Soybeans
Protein
Additional Salad Combinations:
For each recipe below, mix approximately four cups cooked wheatberries with 1/2 cup of each ingredient listed. To enhance flavors, add seasonings such as pepper,  cinnamon, curry powder, dried fruit, herbs, honey, etc. Toss and serve the following combinations over fresh mixed greens:
Cannellini beans, chopped cucumbers, tomatoes, and mozzarella balls
Roasted brussels sprouts, walnuts, and feta cheese, with or without cooked tofu, and served warm.
Pears, pine nuts, and gorgonzola cheese, served with baked chicken or fish.
Corn, black beans, and shredded cheddar cheese, served cold or warm
Steamed kale, low-fat cottage cheese, and kidney beans
Bon Appetite!
References:
"Calories in Nature's Earthly Choice-Wheat Berries, Red Winter…" Source: caloriecount.about.com.Foods>Cereal Grains and Pasta>Grains)
Liu RH. "New finding may be key to ending confusion over link between fiber, colon cancer." American Institute for Cancer Research: Press Release, November 3, 2004.
Liu S, Willett WC, Manson JE, Hu FB, Rosner B, Colditz G. "Relation between changes in intakes of dietary fiber and grain products and changes in weight and development of obesity among middle-aged women." American Journal of Clinical Nutrition. 2003 Nov; 78 (5): 920-7. 2003. PMID: 14594777.
"The World's Healthiest Foods: Whole Wheat." WHFoods: Whole Wheat. (Source: www.whfoods.com/genpage.php?tname=foodspice&dbid=66)
www.whfoods.org
{ Comments on this entry are closed }